most used lippies
Thursday, September 18, 2014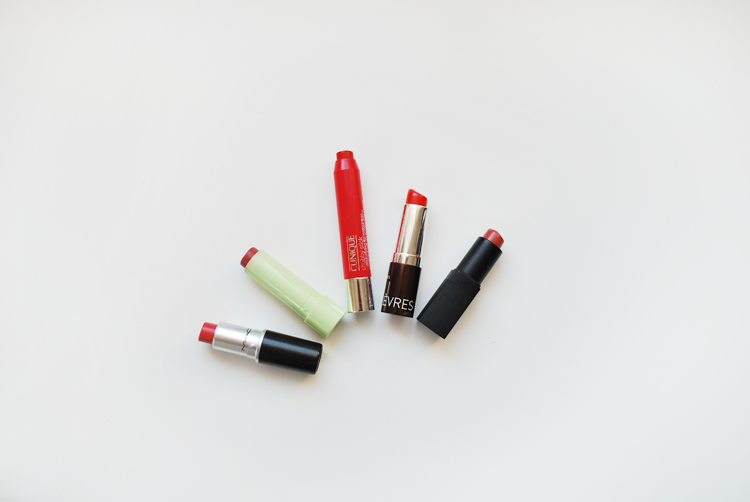 After concealer, lip products are my most used makeup product (and eyeliner after that I think!). I think I've amassed a decent collection of lipsticks but with the new NARS Audacious line that everyone seems to be raving about and those absolutely gorgeous Charlotte Tilbury lipsticks out I think I could always add one or two more.
But the ones I tend to gravitate towards and use the most happen to be the ones that are sheerer or easy-to-wear formulas - things that I don't need a mirror for, because sometimes I don't have the time or patience to apply lip liner and then lipstick properly. I reserve the bolder shades for the weekends and will try to get a post up on my favorite bold lipsticks later on! But on to the lipstick:
MAC See Sheer is a peach-pink shade that I think really works with a lot of different eye looks. Out of the ones here it would be the second most worn. Next to it is the pixi Shea Butter Lip Balm in Natural Rose is one that's talked about here a lot on this blog (it was in my drugstore faves post!) so I'll spare talking about it any further other than it is very comfortable to wear and makes me look done up without having to do very much!
The Clinique Chubby Stick in Chunky Cherry is another much loved lippy and is my most worn lipstick in my collection. As a sheer red I do think this works with everything and if you're looking for a sheer moisturizing wash of color I do think the chubby sticks are the OG of chubby sticks - highly recommended! Next to that is the Korres Mango Butter Lipstick in Coral. The formula is lightweight but moisturizing and I managed to snag this one on sale! I think it's the lightweight sister to my first non-drugstore lipstick - the Korres Lip Butters!
And last but not least is the NARS Dolce Vita Lipstick! Some days my lips can be very pale especially first thing in the mornings and I can look a bit sickly without some hint of more color. On me this is definitely a my-lips-but-better kind of color. This isn't a long wearing shade on me but I can apply it without a mirror with no issue. The weirdest thing about this product is the smell - does anyone else think this smells a bit weird? Like some sort of strange spice.
Other than the NARS Audacious line, on my wishlist is several Bite Beauty lipsticks that Ashley of MakeupTIA mentioned in her last Fall Lip Favorites video - oh Bite Beauty I wish you were a bit more affordable! What lip products are the most used in your collection? And, what's on you lipstick wishlist at the moment?