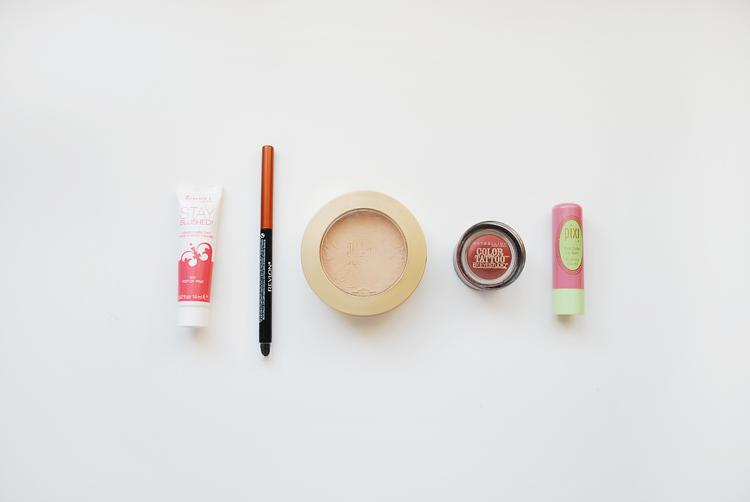 I did a bit of makeup clean up - throwing out things that have expired, giving away some things I wasn't a fan of, doing swatches - and have rediscovered a few favorites. I know I've been focused a bit more on the higher-end side of beauty, but I do want to give a bit of a shout out to the drugstore products that really got me through the early days of beauty blogging, like this oldy-but-a-goody: the Rimmel Stay Blushed! Liquid Cheek Tint. This is a cream blush that leaves such a lovely natural-looking flush to the cheeks. I think this got me really considering blush as an everyday item -
Not really an old product (I think I bought it only a few months back) but how gorgeous is the Revlon Colorstay Eyeliner in 208 Topaz? The shade topaz (which is also my birthday stone - woo November!) is a warm bronze shade that, like others in the line, has excellent staying power, does not budge after is sets and is opaque in one stroke. I personally like this smudge underneath the eye since I think it's a bit too light to be my regular eyeshadow. But I also own the emerald & black brown shades and adore those as well!
The Milani Multitasker Face Powder has become such an essential in my makeup bag for setting my concealer. The powder is really finely milled and never looks cakey. I can't really say how good at it is for blotting but I think this is an excellent product for setting makeup into place. I use it sometimes to set cream blushes as well. If I'm wearing makeup that day, I'm probably wearing this.
The days here are getting shorter, which means fall is slowly creeping upon us (despite the pretty much consistent summer-weather). Which means I can start pulling out this little piece - the Maybelline Color Tattoo in Pomegranate Punk. This shade is my absolute favorite in the line, and I'm sad to hear that they might discontinue it! But I'm going to enjoy it while it lasts. "Pomegranate Punk" is a light shimmery burgundy-purple shade with small glitters in it, which is great as a one-shadow look (which is how I like to wear it).
I don't need to go on about how much I love the pixi Shea Butter Lip Balm - I always have one somewhere in my bag! They're such an easy to wear lip product - they're moisturizing, give decent color and have a pretty good lasting power for a tinted lip balm. I'm hoping that they'll release a few more deeper shades to this line - a red and a berry shade would be perfect for this upcoming fall season!
So those are some of my drugstore favorites, what are some of yours?