5/5 FAB & Bite Beauty
Monday, September 22, 2014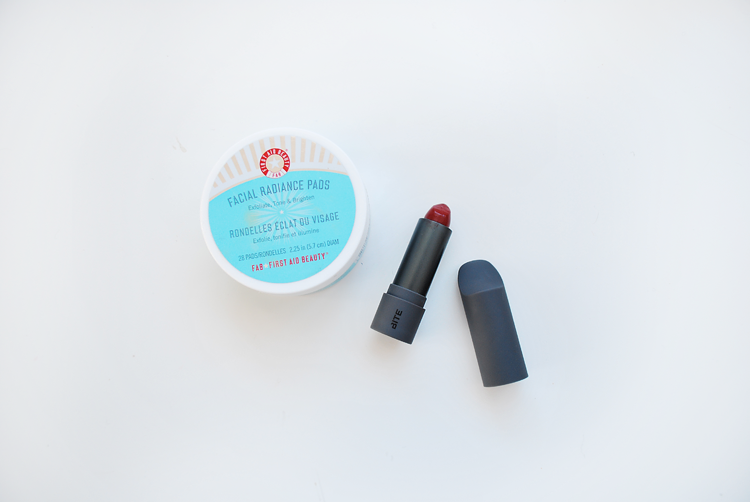 And rounding off my five are another beauty and another skincare piece - both from brands I actually really enjoy. Originally the pixi Glow Tonic was on my list as my acid toner of choice but it kind of boiled down to convenience & accessibility for me. The First Aid Beauty Facial Radiance Pads is readily available at my Sephora (which is literally less than 2 miles away - both convenient and dangerous) whereas the pixi Glow Tonic is only available online. If this ever finds its way to Target this will definitely be in my basket pronto! Like I said, FAB is a brand that I've tried and really enjoyed but the FAB Facial Radiance Pads weren't really in my radar until Tasha of Shiwashful's review on it. Unlike the Dr. Jart+ Ceramidin Liquid which I instantly liked and saw a difference with, I think this one is definitely something that needs a bit of time for me to really form an opinion on. I do have to say that this has been pretty gentle on my skin - no irritation to be seen even on my more sensitive areas like my cheeks. I've even used this around my eyes with no problem at all!
And lastly, the Bite Beauty Luminous Creme Lipstick in Tannin. I adore Bite Beauty - the formula is amazing and their packaging has a good weight to it, nothing ever feels flimsy or cheap and they're really starting to become a brand that I covet. And now I've finally gotten my hands on the their Luminious Creme Lipstick line and so far so good! Tannin is described as a "poppy red" and I don't know if mine was mis-labeled because it looks nothing like the swatches I've seen online. This is more of a berry-leaning red to me but I guess you can't really tell from the bullet alone. I'll include swatches of all of the beauty stuff in my round up for this month's five and you'll see what this actually looks like then (I suck at taking photos of swatches). Regardless, this is a gorgeous color that's perfect for this upcoming fall season. I haven't really gotten a chance to wear it out too much but the formula is very pigmented but because it's dark you do need to be more careful. Plus it does show every little dryness so a lip scrub is a must. I'm not sure if I'll ever have the courage to wear this to work as is but I do think it looks lovely sheered out over some lip balm as well!
Have you guys tried anything from these two brands? What have you bought recently?