top 3 concealers
Tuesday, August 12, 2014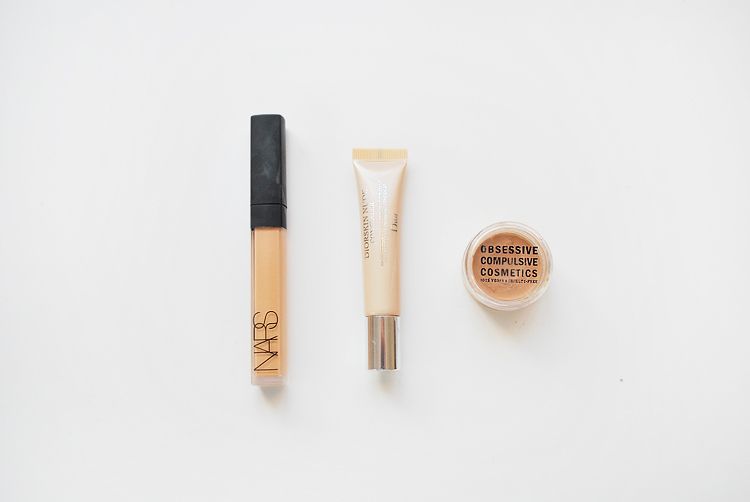 If I'm wearing makeup an undereye concealer is definitely one of those things that I have on. Being a sufferer of genetic dark circles, without concealer I get the "you look tired today" spiel which can be a bit annoying. That's my face guys, I can't really do much without makeup. So concealers have really become a makeup essential for me and is one of those beauty things that I wore even when I really wasn't into beauty. It has been quite a bit since my last favorite concealers post and so I wanted to share what my top are at the moment.
From what I've tried and tested, my favorite concealers are on the mid to upper range of prices - I've liked some drugstore ones in the past (as you can read in that post!) but I've found these preform head and shoulders above those! Incidentally I like these for different reasons - which is a good way to justify having more than one concealer that works for you. I'm a girl who likes to have options.
First is the oh-so covetable and talked about NARS Radiant Creamy Concealer, which I have in the shade Ginger (who else really enjoys the names for these? Cacao, chantilly, biscuit, yum!) I've done a review & comparison to the Maybelline Fit Me concealer written up already if you'd like to read it but basically: it's the longest wearing concealer I have & is brightening, but this creases quite a bit on me and can look cakey against my dry skin. It's nice on the days when my skin is being a bit more cooperative but I have to be a bit better at application.
Whereas the Dior Diorskin Nude Concealer in 003 Sable/Sand is definitely lighter and better when my skin is drier. This isn't as brightening or long wearing as the NARS concealer, but the creasing is minimal (I have some fine lines under my eyes so creasing is always expected) and the formula sits really well on dry skin. And lastly the OCC Skin Concealer in Y2 is right in the middle. Lightweight, but has decent wear time and a medium coverage. This doesn't crease very much on me and the packaging is a bit more convenient for traveling around with so I find myself reaching for this the most lately. Again not as brightening or hydrating but lasts well and looks pretty natural under the eyes and is pretty convenient.
Of course nowadays I've been setting whatever concealer I wear with the Milani The Multitasker Face Powder and it takes all of these concealers from a half a workday to eight hours plus! The powder is so finely milled that it sets without being cakey which I really enjoy.
I am very fickle with concealers, so this list will most likely change sometime in the future. But let me know, what are you favorite concealers and why?