review: LUSH Ultrabland
Friday, August 22, 2014
I'm not sure if this happens to other people but I have a long queue of reviews that I'm in the middle of writing. I like to give myself to really try a product out, especially things like skincare that can sometimes take a lot of time for me to form a opinion on. That being said, I've been using Ultrabland for quite some time now and have finally come around to writing a review for it.
LUSH Ultrabland is described as an "ultra-effective, ultra-gentle ... cleansing cream that cares gently for all skin types". Personally, I see this more as a cleansing balm because it's more solid than what I think of as a cream, but it's also more creamy than other cleansing balms out there. Textures confuse me. But whatever this actually is, I feel like this has is an excellent product for my skin and my makeup removing needs.
If I find a cleanser that works for my skin type - dry & sensitive - I stick to it because I've tried a good number of cleansers that just left my skin feeling tight and irritated. So, I actually really like the name of this - Ultrabland - because I think it describes it rather aptly. This is a cleanser that is pretty inoffensive: it doesn't contain a noticeable fragrance, it's non-irritating, it's non-drying, and there are no fancy bells and whistles to this product. It's bland in a good way I think.
It's kind of weird at first - slathering this non-cream on top of your makeup, but I think it does a good down of breaking down the makeup and cleansing your skin. And it doesn't really get into your eyes which can be kind of annoying with other kinds of products. I used to use a cleansing oil that would always get into my eyes after it emulsified and it was so damn irritating. But unlike a cleansing oil, this balm stays as is on top of your skin which is nice to use as a hydrating mask on top of already clean skin.
But because this doesn't emulsify in water it doesn't really wash off like other cleansers. So, a really important factor is what kind of face cloth or tissue you're using to get this off. The first week I was just using this small one I found at the back of my closet and it was awful and scratchy and just a bad experience. I bought something a bit softer and it made a whole world of difference with how I view this product. This is especially important if you're removing makeup from more sensitive areas like your eyes - while I've had no issues with this removing mascara and waterproof eyeliner I'd be extra careful with using a towel or tissue that was extremely gentle. But after I've wiped this off, my skin does feel nicely moisturized and plush.
While good at removing eyeshadow and mascara this does have some issue with removing my liquid eyeliner sometimes. I think it's more of the nature of the area I'm trying to cleanse - I try to be especially careful with how much pressure I put on and around my eyes. But I do see some flakes of eyeliner stick sometimes after I've wiped the balm off. Again, it's probably just because I try not to be too abrasive to my eyes, but that might be something to look out for.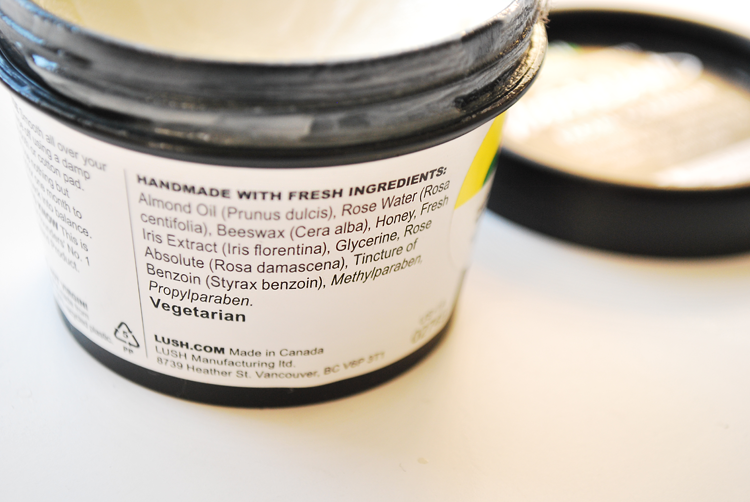 So, would I repurchase? Definitely! For me & my needs this has been excellent in removing my makeup and for use as a hydrating mask. This is my very first cleansing balm so I have nothing to really compare it against to, but this has worked really well for me. A tiny bit of this goes a really long way - I've had this for months now and I still have a ton of product leftover. Personally, I think this could work out on a lot of different skin types but it's ultimately up to whether or not you like the cleansing balm kind of feel. I don't find any fault in the product for what it claims to do so, for me, this has worked out and I'm sticking to it!
Ultrabland is available at LUSH for $16.95 (1.5oz) & $29.95 (3.5oz)
Have you tried Ultrabland? What did you think about it? Also, what do you use to remove your makeup?