new in: August's Five
Sunday, August 10, 2014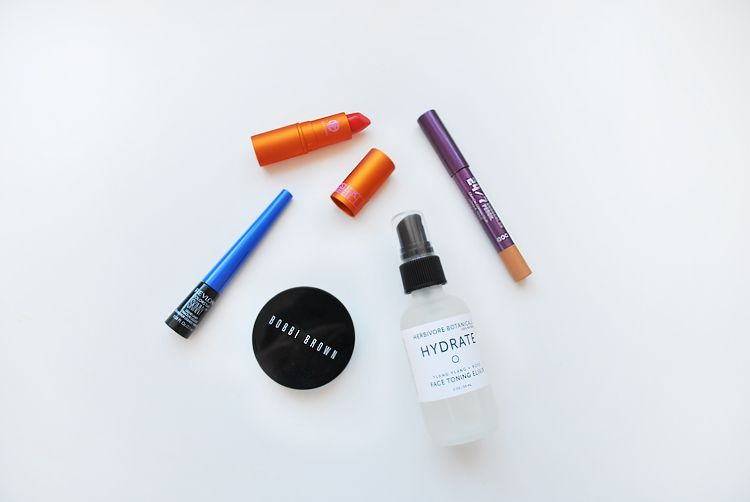 I've been trying to cut down on spending a bit and one of the places where I feel like I've been spending too much on stuff that I don't use is beauty. So in an effort to cut down spending in this area I'm limited myself to only five pieces a month. I hope that this will work and that I'll be paying a bit more attention to the five pieces that I do end up getting.
Lips
I've heard a lot of good things about Lipstick Queen and have wanted to try them out for a while. After a recent Urban Outfitters trip I picked up the Lipstick Queen Endless Summer Lipstick in Stoked. Which is a bit funny because I HATE summer. The color is a sheer orange-leaning red and is really lovely and really brightens up my face. And can we talk about the packaging? Isn't it absolutely gorgeous? It reminds me of the fresh Sugar Lip Treatments in that it's a metal tube but it also has a good weight to it - so it does feel like it's a good quality. The texture of the lipstick itself is really nice and moisturizing and I'm really glad to have picked it up!
Concealer
I'm a concealer junky at heart and it's the one product I cannot go without. I doubt I'll be purchasing a new concealer every single month, but I who knows? I've really been enjoying the convenience of a cream concealer like the OCC Skin Conceal and figured something like the Urban Decay 24/7 Concealer would be similar. The product is very creamy and blends easy, so, so far so good! My shade is "DOD" which Sephora describes as a reddish brown for darker complexions and I don't get that at all - so definitely swatch in stores if you're looking to buy this.
Cheeks
I'm kind of cheating a bit with a 2-in-1 product, but I counted the Bobbi Brown Pot Rouge as a cheek product. I picked up the shade 10 Rose and wow I was not expecting the pigmentation of this product. It's really pigmented but blends well so a little goes a long way and looks very natural on the cheeks and lips. My first foray into Bobbi Brown and probably won't be my last.
Miscellaneous
I left a spot open for a second product in one of the previous categories or for something completely different. This month's wildcard is the Revlon Colorstay Skinny Liquid Liner in Electric Blue and I adore it. When it says electric blue it definitely is - on the lids it's very pigmented and lovely and gives a really nice pop of color. I like the application and the formula, my only complaint is that this isn't smudge or water proof. Not normally a problem but with my allergies sometimes it can completely ruin my makeup. But if you don't have those issues I highly recommend this if you're looking for an eyeliner that gives a pop of color!
Skincare
I'm really happy with my current skincare routine and have no need to switch to something more intensive for my dry skin, but I've been wanting to try Herbivore Botanicals for quite some time mostly because of the aesthetic of their packaging - minimal and clean - which I respond really well to. I also like the that they use natural ingredients - not 100% necessary for myself, but I know some people really enjoy naturally-based skincare. I picked up the Herbivore Botanicals Face Toning Elixir when I saw it in Urban Outfitters and I've liked it so far. I like mists and sprays when it's warm out to kind of refresh your face and this has been nice.
What have you been buying lately? Do you have a method for keeping your beauty purchases minimal?