in rotation #4
Wednesday, August 06, 2014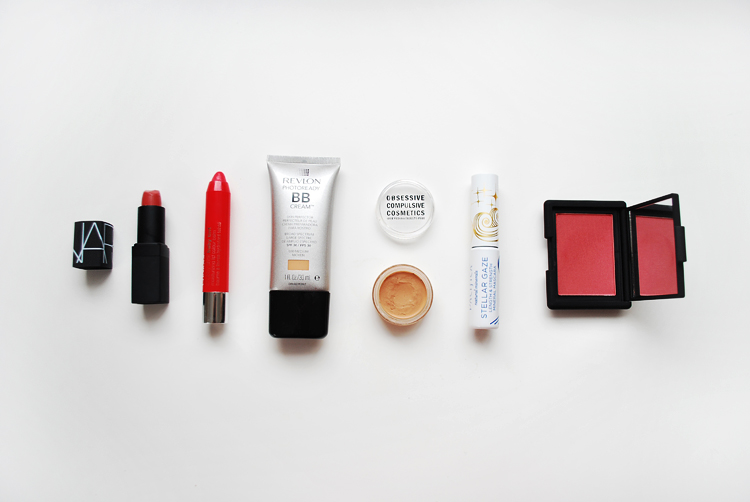 I've been surprising myself lately with how much more subtle looking my makeup has become. I've been shying away from the brights and bolds in blushes and lipsticks to ones that give a bit of tint and are mostly natural looking.
The two lipsticks pictured here, NARS Dolce Vita Lipstick & the Clinique Chubby Stick Baby Tint in 02 Coming Up Rosy, are very subtle in the color they give off. Dolce Vita is a tiny bit darker than my natural lip color giving it a "my lips but better" quality to it and is comfortable to wear. I know I said I'd return the Chubby Stick Baby Tint but I lost the receipt and just couldn't be bothered. But I've surprisingly enjoyed it more than I thought I would. This gives off a really sheer hint of pink/red. It's supposed to adjust to give a more personalized color (which I'm an absolute sucker for) but I never really got too much color pay off off of mine. But I still like it, and like other Chubby Sticks this is really moisturizing. I wish they had stuck to the whole "chubby" naming theme though! And of course I've also been enjoying the Bite Beauty BB for Lips featured in my July Favorites, but I couldn't find it before I took this shot.
As a base, the Revlon Photoready BB Cream gives a lovely dewy finish to the skin which is nice when your skin is chronically dry year round. If you're looking for coverage this definitely isn't it, as I find it rather sheer to light - although I always apply base products more lightly so I have no idea if it could be built up. But the finish looks more natural on me than the NARS Tinted Moisturizer, which I think made me look like an oil slick. As far as concealers go, you should always expect something different from me. I'm starting to amass quite a collection now and I have so many to choose from, it's great. The OCC Skin Conceal in Y2 is not the highest coverage concealer that I own, but it's so easy to apply and gives up a natural finish that doesn't really crease too much on me compared to my more creamy concealers. I find that I need some kind of moisturizer underneath to help it blend and move along on my dry skin, but otherwise this does not budge and has just been working really well for me.
Mascaras aren't normally something that I reach for but when I do wear it I pick up the Pacifica Stellar Gaze Length & Strength Mineral Mascara. Not only because it's the only mascara I own at the moment, but also because it's actually pretty nice looking. It's comfortable to wear and doesn't clump but still gives a bit of definition and length to the lashes. This is not waterproof so don't go watching any tear-jerker movies or go swimming with this. Or, you know, do - I'm not your mom.
For blushes, I picked up the NARS Blush with the same name as the lipstick - Dolce Vita. I find the naming interesting because it evokes images of excess and luxury and the lipstick and blush under this name don't necessarily match that - to me at least. Though you can say that it's luxurious in how much money I spent on makeup to make myself look like I'm not wearing makeup. Anyway, Dolce Vita is a lovely matte dusty rose shade that I find myself picking over others because it would work with a lot of different lipsticks, not just the ones here. Versatility is always a nice thing for blushes.
What's in your current makeup rotation? Any particular favorites in it?