beauty planning #1
Sunday, August 17, 2014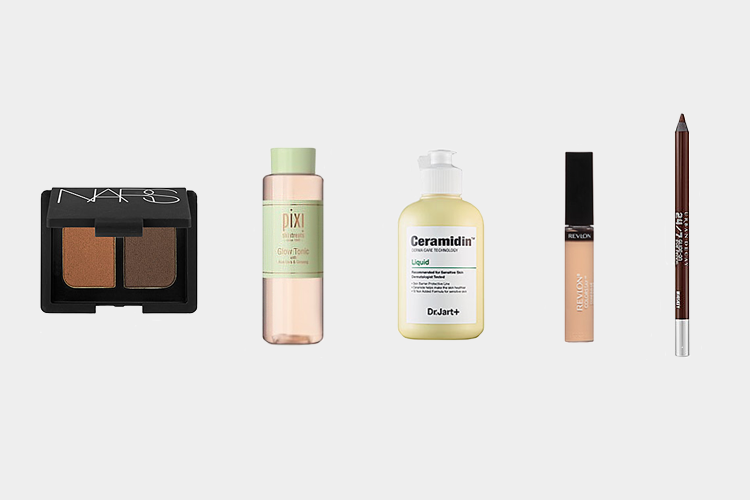 I do a good deal of wardrobe planning but not enough beauty or skincare planning, which is especially important now that I've limited myself to five pieces a month. As a blogger I think it's extra hard to want to buy everything for the sake of new content on the blog - I know I've fallen into that tendency quite a lot since I've started blogging. But there are plenty of ways to create new and interesting content without having to buy very many things - at least, I'm still trying to work on that!
NARS Duo Eyeshadow in Cordura
I've become a really big NARS fan these last couple of months and while I was so tempted to pick up one of their new Audacious Lipsticks there are just so many shades to choose from. I don't think I could only pick one, which I really cannot justify. But what I can justify is an eyeshadow duo that I know I would use often like this one in the shade Cordura. The Sephora website describes the shades as a "shimmery warm rich brown & a shimmery dark brown", which sounds like it would work alone or as a compliment to my Urban Decay Naked Basics palette. $35 on Sephora
pixi Glow Tonic
I've tried manual exfoliators in the past and they have been alright but I really would like to try a chemical exfoliator this time around and with the pixi Glow Tonic being such a blogger favorite I've had this on my list for quite some time now. Hopefully this won't aggravate any of my dryness or sensitivity. 8.5 fl oz, $29 at Pixi Beauty
Dr Jart+ Ceramidin Liquid
Being in an office that has the air conditioning on year round and living in a dry climate isn't the best for dry skin like mine. And with my current moisturizer nearing it's end I'd really like to try something new. This serum has a rather generous 5 oz - that's only $7.80/oz - which is what caught my attention in the first place. The reviews on it are pretty good as well which has had me coveting it for months now. I don't know what the consistency is like but I'd probably end up using this as a replacement for my current nighttime moisturizer. 5 oz, $39 at Sephora
Revlon Colorstay Concealer
Most people don't really put drugstore items on their wishlists because they're so much more accessible, why not just buy it? Well I'm at a 5 a month limit here and even drugstore purchases count. I've been on a higher-end concealer kick for a while now and haven't tried a new-to-me drugstore concealer in a while. And I do rather like Revlon so this Colorstay one sounds good. $9.99 at drugstore.com
Urban Decay 24/7 Glide On Eye Pencil in Whiskey
And lastly a new brown eyeliner. While I adore the pencil eyeliners I own I find that they aren't the smoothest to apply, especially when my skin is a bit more dry, which can be a little annoying. I've never tried a non-drugstore eyeliner before and so wanted to dive in with this Urban Decay one. I kind of felt the same way with the NARS Audacious Lipsticks as I do with these pencils because there are so many different browns to choose from. I'm not even sure "Whiskey" is the one I"ll pick up until I swatch them because it honestly looks like there's a different brown for whatever mood I'd be in. Sometimes so much choice is is daunting because if you end up liking it the whole "gotta-catch-em-all" feeling comes into play and suddenly you're neck deep in pencil liners. $20 at Sephora
Do you guys plan out your beauty purchases? What's on your to-buy/wishlist?