august 2014 favorites
Sunday, August 31, 2014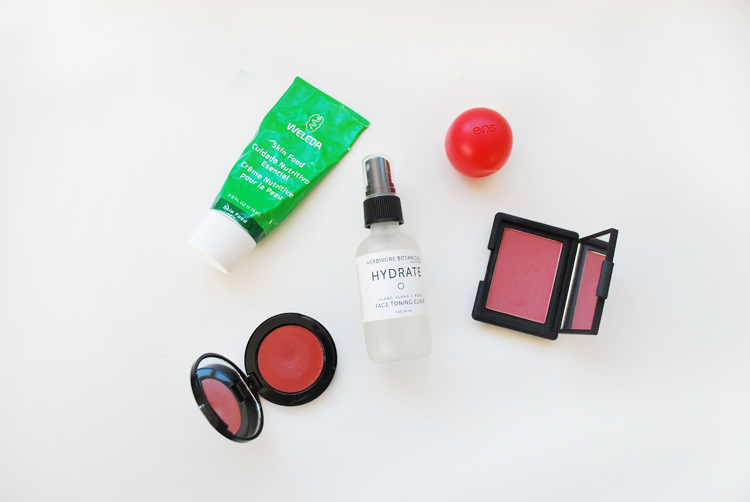 For some reason I really struggled with coming up with favorites for this month for some reason. Maybe it's the fact that I've limited my beauty purchases this month and so don't really have a lot of new stuff to talk about. I know that you could totally blog without adding too many new products to your repertoire but I'm still getting used to that, you know? I hope you guys will continue to bear with me as I figure everything out!
Anyway, my favorites are a bit on the boring side this month. I've been battling a bad eczema flare up for most of the month and believe me, itchiness + dry heat is an awful combination. But like before I've really enjoyed the Weleda Skin Food for not only helping with hydrating my skin but also doing that without irritating it at all. This has gotten a glowing review from me and I highly recommend it.
Another product I've been using for combating the heat is the Herbivore Botanicals Face Toning Elxir which I picked up earlier this month. I tend to gravitate towards sprays like this in the summer - last year I was obsessed with the Caudalie Beauty Elixir - and this year it's this product. I really can't say anything about it's toning properties but it does feel nice on the skin without drying it out.
The eos Lip Balm in Summer Fruit is a new flavor of an old favorite. I adore the eos lip balms mostly for their adorable packaging but they have a good formula that makes an excellent base for lipsticks I think. This "summer fruit" one smells exactly like these lychee gummies to me!
And lastly I've been really enjoying these two blushes lately: the NARS Dolce Vita Blush & the Bobbi Brown Pot Rouge in 10 Rose. Funny enough these look very similar on the cheeks, but I do enjoy both for different reasons. Both are extremely pigmented and you only need a small amount for it do it's job. The NARS blush is a bit more effortless for me though - I just dip my brush into it once and blend on the cheeks and then it's done. While the Bobbi Brown pot rouge needs a bit more effort. I prefer to use it with my e.l.f. small stippling brush but once set it does not budge and it lasts really well. I thought I would enjoy the Pot Rouge because of it's cheek & lip abilities but on the lips I find this a bit lacking. It applies well but as it wears it dries and it is not the most comfortable feeling on the lips. But otherwise on the cheeks I really enjoy this. But because it's been so hot lately I am noticing the product start to separate which is not fun. But despite all of my complaints 'fall' here in SD will arrive eventually.
And because I do want to inject more non-beauty stuff into this blog I wanted to Matt Bernson Sterling Shoes as well! Every time I look at them my heart flutters a little - I am in absolute love with them. I guess it does pay to wait for something because while I'm happy to have these now I certainly would've felt bad about getting them for full price then! I've received a lot of compliments about these shoes as well, which is always nice. They're pretty comfy to walk in too but I do have to say that they don't have a lot of traction (I think that's the right word for it?) On smoother surfaces like kitchen floors and such I can sometimes slip. Not the biggest issue but if you're thinking of picking these up that might be something to consider.
Anyway, how was the month of August like for you? What were some of your favorites for this month, beauty and non-beauty?