sunday summary #9
Sunday, July 20, 2014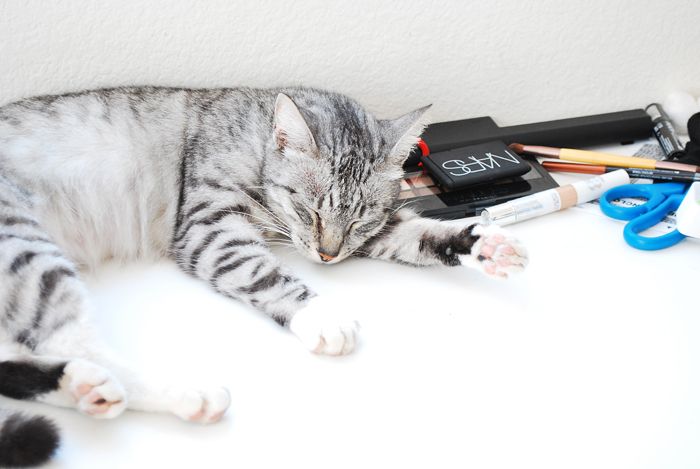 1. My cat took over my desk today and so I couldn't work as much as I'd wanted to when the light was out - it's forbidden to push a sleeping cat out of the way!
2. But honestly, I know I haven't been keeping up this blog as much as I should be. I kind of want the month to be over and just start fresh, you know? I think it's because I had been working more last week and didn't have enough time to sit down and work on posts and read other blogs and comment and interact with other people. Hopefully since I'll have some time off, things will pick up a bit more on the blog!
3. Despite being a self-proclaimed lipstick addict I don't own very many higher end lipsticks. So I picked up the new Bite Beauty BB for Lips in Tawny & the Clinique Chubby Stick Baby Tint in 02 Coming up Rosy. I adore the Bite BB for Lips, but I'm sadly returning the Clinique Baby Tint - it just isn't what I wanted it to be and isn't worth it.
4. How does everyone feel about flatforms? I picked up a pair and love how chunky they look, but I know they're not everyone's taste. But for someone who is short and can't walk in regular heels, I need all the height I can get!
5. I'm almost done with my summer clothes list, which is super exciting! All I have left are: a gray sweater, a white shirt, and flat sandals. But honestly I think I'm going to just order those things all from Everlane. Do you shop in advance or do you shop for the season? It's a bit hard to say here in San Diego because you should always have summer clothes readily available year round, because that's the default weather. But how is it like where you live?
So, how was your week?
Have you entered my 2nd blog birthday giveaway, yet? The giveaway ends in a week on July 27th, 12AM PST.