new in: Josie Maran, OCC, Weleda
Tuesday, July 15, 2014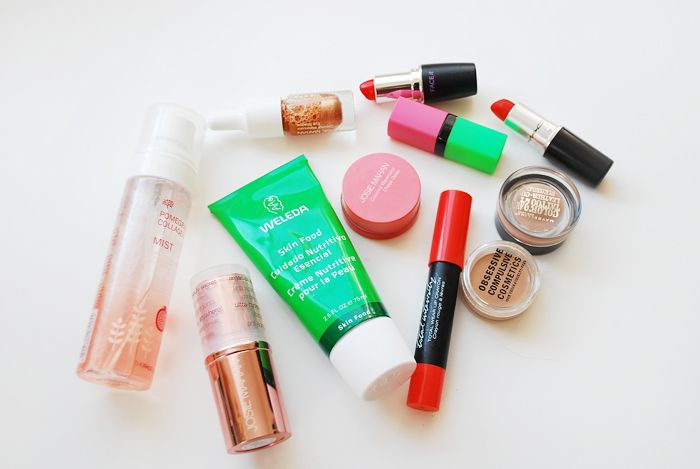 Obsessive Compulsive Cosmetics Skin Conceal Y2, Josie Maran Argan Color Stick Rosey, Coconut Watercolor Cheek Gelee Poppy Paradise, Coconut Watercolor Eye Shadow in Rio de Rose Gold, Prestige Total Intensity Total Wear Lip Crayon Girl on Fire, Weleda Skin Food, The Face Shop Pomegranate Collagen Jelly Mist, Maybelline Color Tattoo Leather 80 Creamy Beige, MAC Lady Danger, Face It Artist Touch Lipstick Glossy OR202, Barry M Genie Lip Paint
This is one of those instances where it'd probably be easier to share in a video than with text and photos (or photo in my case - I really need to take more photos to break stuff up, but blogging is a learning process!), and who doesn't like a good haul video? I don't think I'm going to break out into Youtube any time soon, despite what I mentioned last summer, but it is easier to show and talk than write, you know? Like last time I won't talk about everything because wow wouldn't that be a huge block of text, but I will talk about some of the stand out products.
But, BOY DID I GET A LOT OF STUFF!
I don't know why I was suddenly in such a mood to buy Josie Maran products but I really wanted another cream blush and had heard good things about the Josie Maran Coconut Watercolor Cheek Gelee and had gone to pick it up and ended up with two other products. When you're in Sephora you can't help but swatch stuff out and I swatched the Coconut Watercolor Eye Shadow and was so intrigued - this is a really unique product and the pigmentation and formulation are excellent. More on this to come because I'm definitely eyeing another shade and it's rather reasonably priced at $18/0.16fl oz (4.7mL) and a little bit goes a long way. But honestly, what's up with the whole "coconut water" trend?
Another Josie Maran pick is the Argan Color Stick in Rosey, which I think works quite well as both a blush and a lip product. I don't own more neutral blushes, you know? Most of mine or pretty bright and I couldn't really imagine wearing everything past summer. It smells like ginger (probably due to the menthol and other herbs in it's ingredients) which I'm not sure how I feel about.
Another stand out for me is the Weleda Skin Food. It's taken me so long to purchase this and I have no idea why because it's excellent as a moisturizer due to it's thick, ointment like consistency and, here's the kicker, it doesn't irritate my eczema, at all. And that's a huge deal for me since my eczema likes to flare up during the summer time. I also like that it's in an aluminum tube - there's something a lot fancier than with plastic.
And of course I can't help myself and bought another concealer in the form of the OCC Skin Conceal in Y2. I usually stay away from concealers in tubs like this because these formulas are usually much drier, which, against my already dry under eyes is a recipe for disaster. But, I have no issues with this and enjoy the coverage and finish that it gives, I only wish that it were a touch more brightening.
I also seem to be in quite an orange lipstick mood as well and have picked up three orange-y lipsticks, but they all have different finishes to them. The Face Shop Face It Artist Touch Lipstick Glossy in OR202 is, like the name implies, glossy and is much sheerer than the other two. The Prestige Total Intensity Total Wear Lip Crayon in Girl on Fire is your average creamy lipstick and of course MAC Lady Danger is matte. I like having a variety of finishes for the same-ish shade because I think still wear a shade I like even when my lips or chapped or if I want something a bit more intense. At least, that's what I'm trying to justify to myself, otherwise I just bought three orange lipsticks in the span of two weeks.
I have lots to say about the other products too, but I'm sure they'll have their time to shine. What about you guys? What have you been buying lately?
Have you entered my 2nd blog birthday giveaway, yet? The giveaway ends July 27th, 12AM PST.