july 2014 favorites
Thursday, July 31, 2014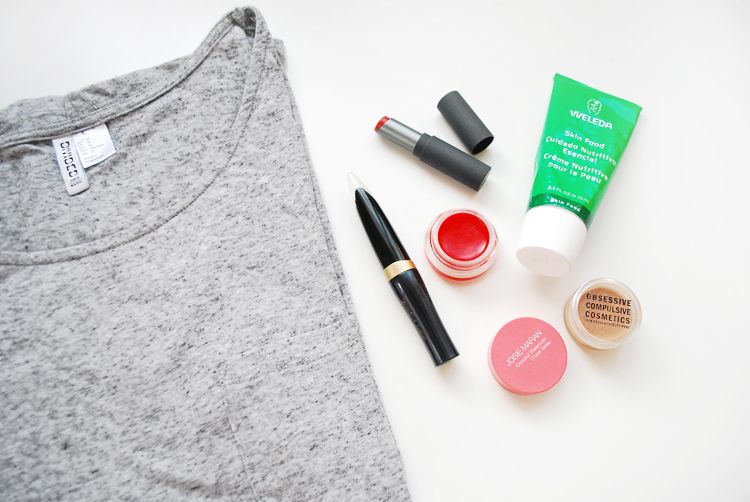 I'm glad that July is over - it means one more month closer to autumn and hopefully away from this awful heat. I just am not a summer person and never really will be I guess! But anyway, let's go onto monthly favorites. Not pictured here but definitely something that I've really liked is my new bag - the UO Reversible Vegan Leather Oversized Tote in navy blue. I'm not much of a bag person really but my last one was a bit too small for all of my stuff - I like to be prepared - and a simple tote out of faux leather looks really cool in my opinion.
Another favorite is this H&M Marled Tee. Really this is a testament to how dull my style is if I've been really loving this tee so much. But I adore this one for some reason: it really hits everything I enjoy in a tee. The sleeves aren't too short, the pattern is simple but not plain, and the fit is a great slouchy tee. I literally wear this everything.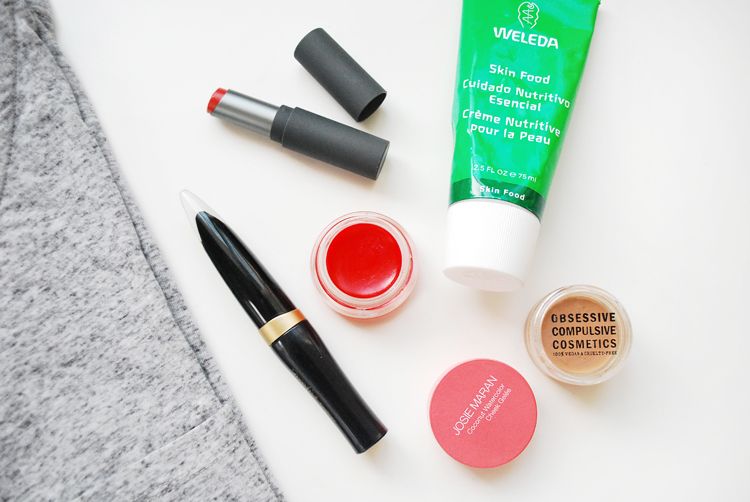 As for beauty, I've been liking quite a range of different things. First, lips. I've kind of fallen in love with "my lips but better" colors lately, which is really weird of me. I don't really like the color of my lips - they can get really pale sometimes and make me look like a zombie which is not a good look on me. But a hint of color is all I need to make me feel alive and the Bite Beauty BB for Lips in Tawny does just that while being moisturizing and with SPF. The color doesn't last long but reapplying is a breeze.
But other than the Bite lipstick & a NARS one that I picked up afterwards those were, surprisingly, my only two dedicated lip products. I've been coveting blushes and lip/blush duos quie a lot more lately and really want to pick up another lip/cheek duo this weekend (quick, which is better, the Bobbi Brown Pot Rogues or the Stila Convertible Colors?). But one of my go-to blushes has been the Josie Maran Coconut Watercolor Cheek Gelee in Poppy Paradise - this instantly brightens up my face and is really lovely for this awful weather despite not actually reminding me remotely of coconuts.
I've talked about the Face Shop Greatist Eyeliner in Brown in my makeup rotation post so I won't bore you some more, but I'm not quite sure if I mentioned my hate for the spelling? There is such a thing as spell check Korean makeup brands.
I'm not one to reach for concealers in tubs like the OCC Skin Conceal in Y2 because the formula tends to be super drying and awful for areas like underneath the eyes. But I've suprisingly gotten along with this one quite well - it's thick but it doesn't look dry or cakey when I wear it under my eyes and it has a really good wear time. My biggest plus for this is how much faster it is for me to pop on. With cream and liquid concealers I spend a lot of time blending and it is quite messy, which is annoying when you're on the go. But honestly you should expect a new concealer here every month because I just love discovering new concealers!
And last, but certainly not least, I've really enjoyed the Weleda Skin Food. Honestly I'm bit annoyed that I didn't pick this up sooner because I could've had moisturized skin without the sting! This is a rather thick, ointment-like product made from various plant extracts and has been great for moisturizing my eczema without the sting. I've had no issues with using this on my face too. This has definitely supplanted my La Roche-Posay Lipikar Baume has my go-to moisturizer for eczema. I highly recommend this.
I'm mostly glad for the end of the month because I feel like I can turn a new leaf over, so to speak. I feel like because of Comic Con I've been recklessly spending quite a bit and just want to start the next month fresh. Plus, we're getting closer and closer to my birthday month (November) and then the holidays in December! But anyway, are you glad that July is over? What have been some of your favorites for this month?