in rotation #3
Wednesday, July 09, 2014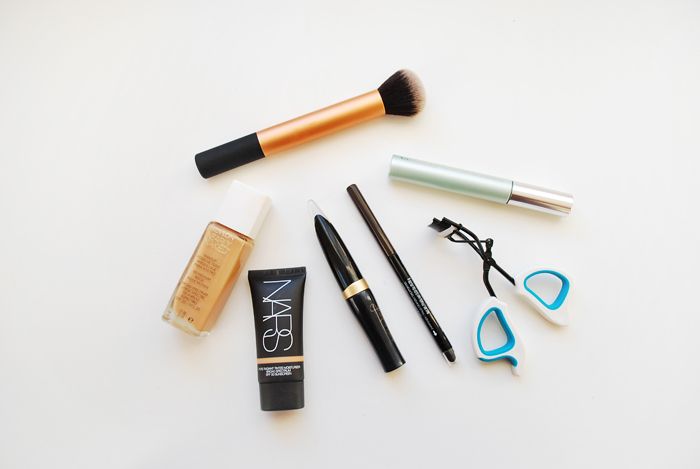 Like any other person, I like to switch things up a bit, and that includes my makeup routine. While I still enjoy my staples like my favorite NARS Gilda Blush & Dior Doirskin Nude Concealer, I do try and switch up my base makeup and what not so I don't get bored.
I've been on the hunt for the perfect lightweight base for everything. I've been testing out two at the moment: the Revlon Nearly Naked Foundation and the NARS Pure Radiant Tinted Moisturizer. I don't have strong opinions on these things - I definitely need to try them out a bit more - but neither have been completely awful either. For the Revlon foundation I've been using the Real Techniques Buffing Brush to help work it into the skin.
I've been mixing my eyeliner a bit and have strayed from my usual Neutrogena one in favor for things that are a bit more matte. I picked up the Revlon Colorstay Eyeliner in Black Brown after falling in love with the new shade, Emerald. I genuinely like this line of eyeliners - they go on smooth and are super pigmented and last all day. My only critique is that the smudger on the end of the pencil isn't the nicest or most pleasant thing to rub your eyes with. Plus I like how they twist up - I hate sharpening pencils! If I want something more precise I've been enjoying the The Face Shop Greatist Eyeliner in 02 Brown. I'm kind of annoyed with the spelling on this product, but otherwise I really like the formula of this. I usually stick to black liquid eyeliners, but this dark brown shade is surprisingly natural looking and is really lovely. I managed to gather the courage to step into The Face Shop in my Korean grocery store and picked up two things and got this eyeliner free, which was nice.
And lastly, eyelashes! I would've added lip products but honestly I wear a different lipstick everyday and unless you'd like to see all of the lipsticks I carry in my bag at a time, I didn't want to make this post any longer. Anyway, eyelashes. I don't always wear mascara, but I finally picked up the Clinique High Impact Waterproof Mascara after many recommendations from everyone on the blog-o-sphere. And honestly I feel kind of "meh" about it. I don't think it's anything special really. I like the Maybelline Full N' Soft and the Almay One Coat Thickening mascaras a whole lot more than this actually. But the main star here are these eyelash curlers, which I have no idea the brand except that I got it at Walmart for around $3. These don't have the spring so these open up easily and have been really good at curling my lashes. Like, really good. Granted my previous curler was a not-so-great e.l.f. one, but this has been really good! Of course they'll stay curled for like an hour before they droop, but that's 59 minutes longer than they normally would with the e.l.f. one. A huge plus in my book!
So that's what I've been using lately! What's in your current makeup rotation?