new in: Tony Moly, LUSH, etc
Tuesday, June 10, 2014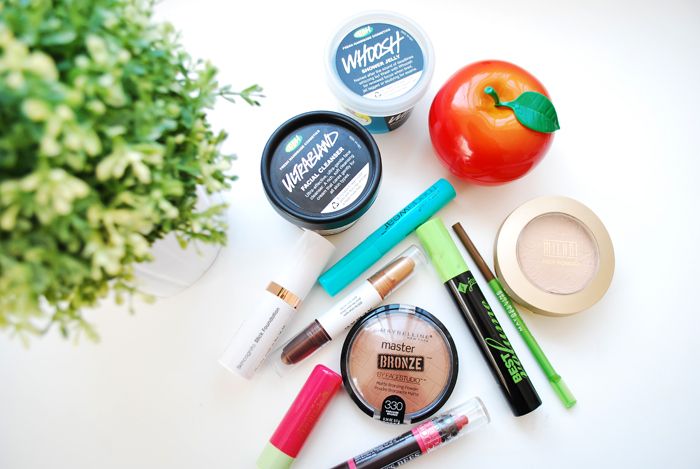 Deciding to take a picture of all the beauty/skincare stuff that I purchased recently was what led to my month-long drugstore makeup ban. For me I don't have to justify buying something from the drugstore - it's inexpensive and you know, why not? Whereas if I wanted to buy something from Sephora I have to list all of the reasons why I should get it, double check my bank account, do all this extra research, and swatch it out in stores.
I'm still working on the whole, "quality over quantity" thing, but I think it's extra hard as a blogger. As a blogger I sometimes feel obligated to try new things out for myself. It's all well and good that so-and-so blogger likes it, but how will I feel about it? Anyway, this will be the last post of it's kind about my recent purchases, at least those coming from the drugstore. Hopefully! This is a long post only because I have a lot of things and I'm far too verbose for my own good, so grab something to drink or something to snack on and click "read more" below.
LUSH Ultrabland, LUSH WOOSH Shower Jelly, & Tony Moly Red Appletox Honey Cream
First are some skincare products. I was in LUSH last week and didn't want to leave empty handed because I was lingering in the store for a bit sniffing everything and I didn't want the people there thinking that was the only reason why I went inside (even though it was). And so on a whim I picked up the much raved about Ultrabland & the WOOSH Shower Jelly. I wish I had a gif of WOOSH because when they say shower jelly they mean shower jelly. It's kind of hard to use and is a bit gimmicky, but it does smell lovely and foams nicely. It has one of those uplifting citrus kinds of smells and I wonder if they have a shower gel version of this because I want it! Ultrabland is a cleansing balm which has been doing all kinds of good things for my skin so far. Only, the washcloth I've been using isn't the most gentle so I have to pick up something a bit different. But LUSH is definitley one of those stores where I just can't help but get something... I'm not really interested in their bath bombs, but their skincare and haircare products are always so intriguing!
I'm super excited to have this next product - the Tony Moly Red Appletox Honey Cream, which is a gel moisturizer with a strong apple scent. I'm so happy that Urban Outfitters (where I purchased this from) carries Korean cosmetics because I've always wanted to try some of them but worry about shady websites. And just look at that packaging! Adorable! I've been enjoying this in the mornings to wake me up and I think it makes an excellent base for makeup. More about these products in my skincare post later this month!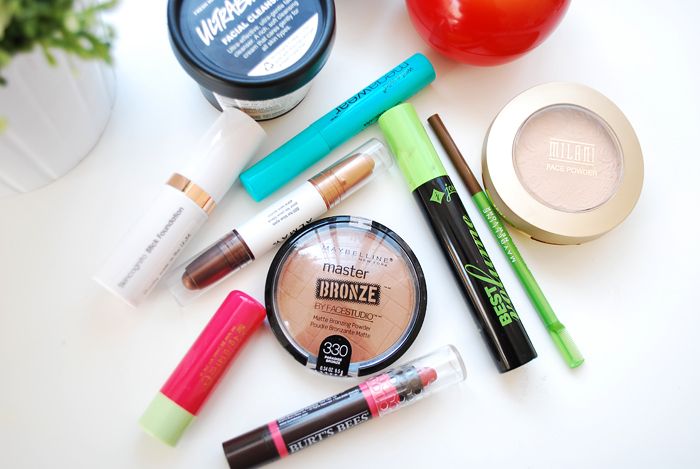 Flower Beauty Skincognito Stick Foundation in SF5, Wet N Wild Megawear Mascara, Almay Intense I-Color Shadow Stick for Blue Eyes, Jordana Best Volume Extreme Volumizing Mascara, Maybelline Define-A-Brow Eyebrow Pencil in 643 Medium Brown, Milani The Multitasker Face Powder 03 Medium Maybelline Master Bronze Matte Bronzing Powder in 330 Paradise Bronze, pixi Shea Butter Lip Balm in Ripe Raspberry & the Burt's Bees Lip Crayon in 417 Niagara Overlook
I don't want to go into too in-depth detail on each of these products because both of us would be here all day! I've kind of been dabbling in a bit of everything really. From brows (I do NOT recommend the Maybelline Define-a-Brow Eyebrow Pencil - it works but it's not amazing. Plus the packaging is awful - you can't twist the product down so you have to be careful about not putting too much product out.) to powder and everything in between. The real standouts, for me, are the Milani The Multitasker Face Powder - it's so finely milled and lovely! I can't say how good it is at mattifying as I don't have that issue, but it's great at setting makeup without being cakey - and the pixi Shea Butter Lip Balm, which I've talked about before, but bought a new shade. Ripe Raspberry is a perfect bright lip and the color lasts forever. I was eating yogurt and then later spaghetti and there was still color to my lips - and this is only a lip balm!
I had such high hopes for the Burt's Bees Lip Crayon though. I adore their lip balms and was thinking I'd have another lovely tinted lip balm kind of product in my arsenal, but this was such a disappointment. The mascaras aren't anything special either. They're just okay, I think, but I'm not really impressed by mascaras most of the time so take my opinion with a grain of salt. As for the other things, I definitely have to test them out a bit more! I find myself falling into a routine with my makeup sometimes, so hopefully adding new products forces me to try new things out with what I put on my face.
Whew! That's almost everything. I forgot to take a photo of the new cleanser I'm using - it's just Cetaphil - so just imagine that white and blue packaging with my other skincare stuff! It's only been a few days into my ban, but I always end up purchasing things on the weekend when I have time, so we'll see how that goes.
Anyway, what have you been buying lately?