June Skincare
Saturday, June 14, 2014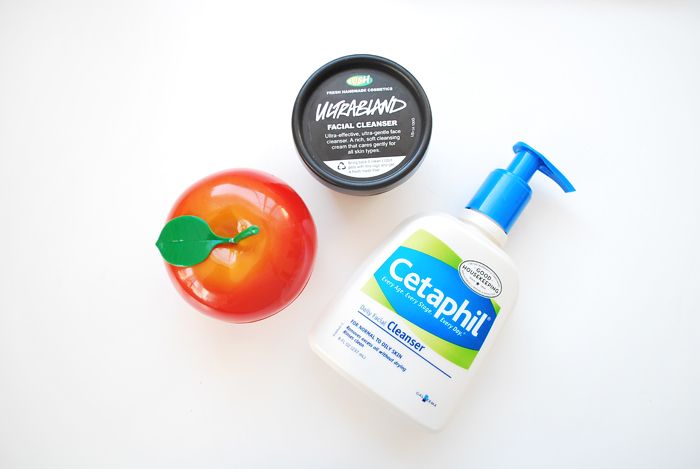 Tony Moly Red Appletox Honey Cream, LUSH Ultrabland, Cetaphil Daily Facial Cleanser
I have some new additions to my skincare routine since last month and I wanted to share my thoughts on them. These aren't new to you since I mentioned them in my new in post, but I've now started incorporating them into my skincare routine and I've really been enjoying it so far. I think I've finally settled down to products that actually work without irritating or drying my skin!
First up is the Tony Moly Red Appletox Honey Cream. I was a bit intimidated at first because the smell is so strong and I don't normally get along with strong scents, but this is pretty unnoticeable after it sinks in and isn't irritating. If I have a little extra time in the mornings I like to apply this on my face since I do think it makes a good base for makeup. Otherwise I still do use the Caudalie Vinosource Moisturizing Sorbet in the mornings.
The next two products are cleansers. The first, the LUSH Ultrabland Facial Cleanser is more of a cleansing balm whereas the Cetaphil Daily Facial Cleanser is more of your traditional cleanser. Ultrabland is amazing at removing makeup without stripping your skin. When I have time I use this in the mornings as well to moisturize my skin a bit more, which is great when my skin is starting to get this dry spots. This is more of a labor intensive product so on days where I'm a bit more lazy I use the Caudalie Cleansing Water.
The Cetaphil cleanser isn't new to me - I've used it before and liked it. But I've been on a search for a traditional cleanser that cleanses without drying my skin out and I've finally returned to this oldy but a goody. There aren't any fancy bells and whistles to this - this does with it says on the bottle - it cleanses. And I appreciate how simple of a product it is. Cetaphil has another cleanser available that's more targeted towards people who have normal to dry skin, but I have no issue with this one even this is targeted more towards their normal to oil skin. Highly recommend! Although I do have to say the smell is kind of bad, but it doesn't linger, thankfully.
What has your skincare routine been looking like lately? Any really good additions?