June 2014 Favorites
Monday, June 30, 2014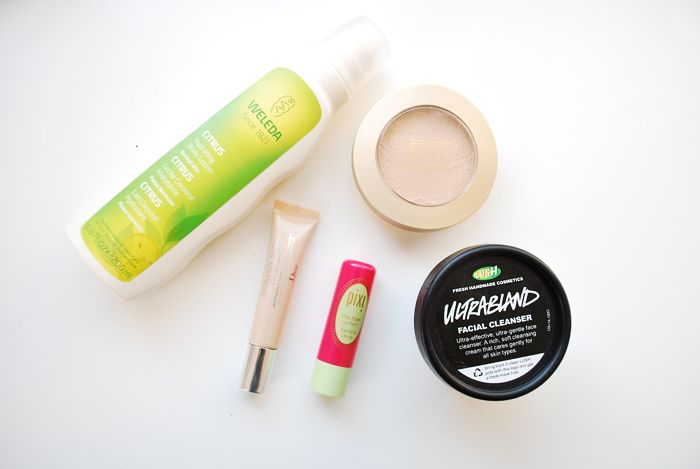 Let's keep things short and sweet today with June's favorites because I know that you guys have many more posts like this to read and I'll also be pretty busy because it's the last day of the month! I have this tendency to ramble so I wanted to cut down my list of favorites short this month and I think I did a good job at picking my absolute favorites. But enough about that, let's talk about the Weleda Citrus Hydrating Body Lotion. I picked this up randomly at TJ Maxx for less than $5 on clearance, I believe, and I really really like it. The scent is citrusy without being too overpowering and I think it does a pretty good job at hydrating. I've always wanted to try Weleda and I think this was a great introduction. Another skincare favorite is Lush Ultrabland. I was in the mood for a cleansing balm and didn't want to leave LUSH empty handed so I chose this and I've really enjoyed this. I still like the Caudalie Cleansing Water for days when I just want all of makeup off right then and there, but if I want something to hydrate my skin while also removing makeup, this is definitely a good pick.
For makeup there were 3 stand outs for me. The first is the pixi Shea Butter Lip Balm in Ripe Raspberry. This is a relatively new product that I was a bit apprehensive about when it first came out. If you check the ingredients list you'll find that shea butter was pretty low and I thought that was kind of annoying. But honestly I do find this to be moisturizing and I adore the color. I always have this in my bag nowadays!
I'm not much of a powder girl, but I was switching back and forth between my NARS concealer and some of my other more liquid/creamy concealers and those just don't match the longevity of the NARS one. So I figured if I used something to set it, some of my other concealers would last a bit longer. I never really noticed the Milani Multitasker Face Powder before, but it got 4.1 overall (out of 5) on Makeup Alley so I thought, why not? Does anyone else do that though? I don't actually read reviews sometimes (a bad habit that I really need to get over), but sometimes I look at average ratings across websites. Makeup Alley being one of the more prominent ones! Anyway, I'm glad I picked this up because this is such a lovely powder. It's finely milled and definitely helps set makeup without looking cakey.
Which is nice because I picked up a new concealer that is a bit more liquid in the Dior Diorskin Nude Concealer, in the shade 03 Medium. Originally I had picked up the Laura Mercier Secret Camouflage and that was a huge mistake. Was anyone else super influenced by that Lisa Eldrige Alex Chung Makeup Tutorial? I picked up Secret Camouflage after that and returned it within a few days. I wanted something similarly priced and the only other concealer I was thinking about was this one by Dior. And oh my god, I'm glad I picked it up. It's color correcting, lightweight, and isn't super matte. It's not as long-wearing as the NARS concealer, but I think for my skin type, this is a much better choice.
What was on your June favorites?