capsule wardrobe
Wednesday, June 04, 2014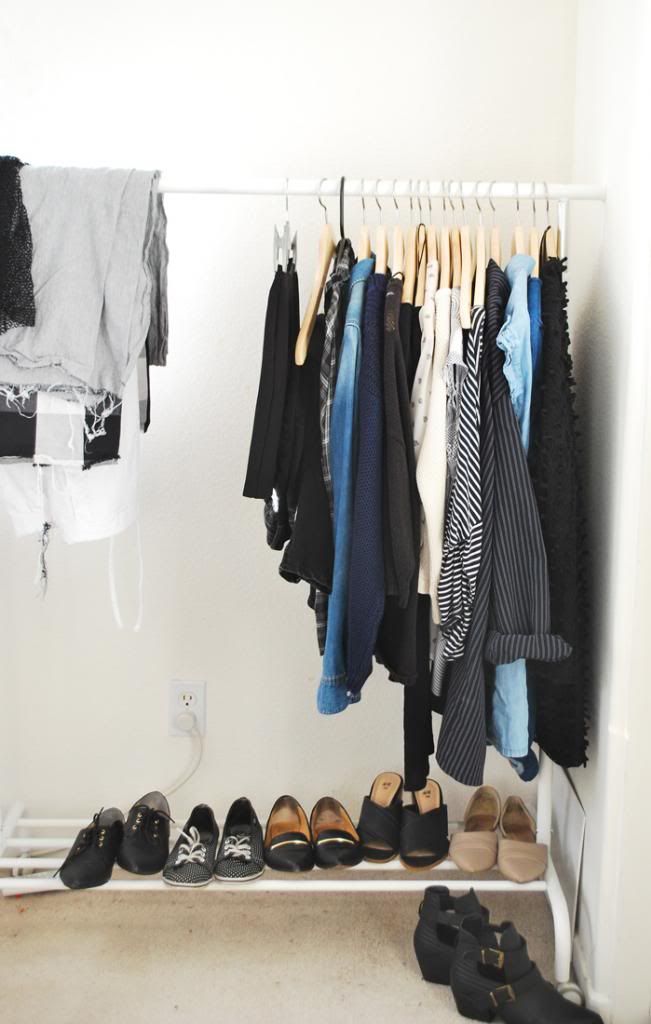 I recently purchased the RIGGA Clothes Rack to help myself organize my clothes a bit better. And I couldn't be more pleased with how it looks! Before this I kept all the clothes that I wore regularly on a chair in my room - I think this looks much nicer!
I think I first heard of capsule wardrobes from the site, Into Mind which is an excellent resource for wardrobe planning and the like. And I like to think of this collection as my own little capsule wardrobe - what makes up my basics and what I reach fore everyday. I still haven't quite gotten to the point where I absolutely love my entire wardrobe. There are days where I just hate everything, so things are still a work in progress, but hopefully seeing everything laid out like this gives me a better idea of what to add (or subtract).
A few fabrics that I have on my rack left to sew - black fishnet, striped cotton for a shirt & gingham for an A-line skirt
Here in San Diego seasons don't mean much. The weather here is so mild here that I can and do wear all of my clothes year round. I just add or subtract layers depending on the temperature, so wardrobe planning is a bit easier for me in a way. For "summer" I have a few items that I'm planning on purchasing or making:
Medium-washed skinny or straight leg denim jeans I adore the color and shape of my boyfriend jeans, but some days I like something a bit more fitted. Lately I've been preferring jeans over my usual skirts because they are easier to throw on, but also because I don't have to shave.
Striped Shirt Of course, inspired by AfterDRK's 6 reasons to own a striped shirt post. I bought this lightweight cotton shirting and have the pattern and everything. I've been a bit too busy to actually cut and construct everything, but hopefully I'll manage to do it sometime this weekend!
Printed A-Line Skirt Another one I'm planning on DIY-ing, but skirt's are far less complicated than shirts so I think I can do this over the course of this week I think. I just need to purchase an invisible zipper and some thread. I had really liked the Topshop Brush Gingham Skirt and had it in and out of my online shopping basket for quite some time now, especially since I saw this skirt on some of my favorite bloggers. But I think it's a bit annoying how the pattern isn't even properly aligned on the skirt. If I was to pay that much for a skirt (it was $72 full price!), I expect the pattern to match up! I only hope that the fabric that I got is enough to make and properly align the skirt as well as a matching top.
Cropped White Shirt I don't know if crop tops actually suit me for not, but I saw a cropped shirt from H&M recently and after some umming and ahing I decided not to get it and I regret it! I have to go back to my H&M and see if they have it again because I think it would not only be good to wear on it's own but also layered.
Of course, I keep a full list of things that I want on an app on all my devices, but these are the items that are my priority. Anyway, how do you guys organize your closest? And what's currently on your wishlist?