things I've learned from sewing
Friday, May 23, 2014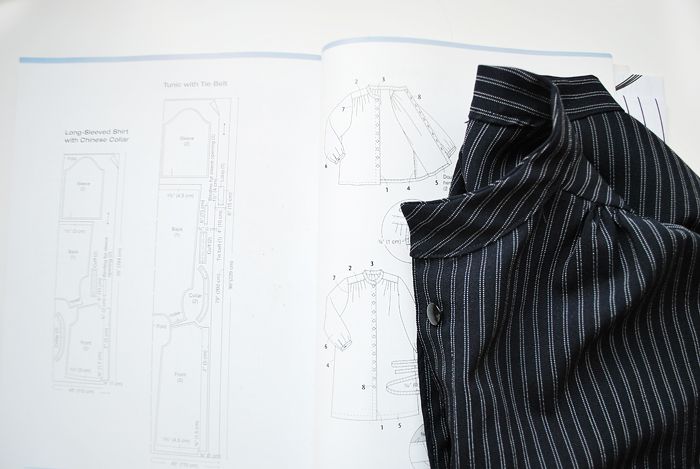 Simple Modern Sewing by Shufu to Seikatsu Sha; A shirt dress made from pattern 8b, you can see how it looks in the post "Sewing Resolutions"
Not my usual beauty post, but like I mentioned in my last Sunday Summary post I wanted to add more non-beauty related topics to the blog. And I thought I'd share some of the things that I've learned and picked up from sewing and a little background on how I started sewing in the first place. This is a long post, and about a subject I'm not sure if everyone's into. But I don't mind if you skip this one!
I was really ambitious when I first started out with sewing. My dad showed me how to put everything in order and for Halloween my 2nd year of high school I thought I could make a full Gothic Lolita dress from scratch in like three days. Lolita dresses are super complicated and have all the embellishments. All of them. Lace, ribbons, frills, gathers, pleats, everything. And I thought I could make it. From scratch. Needless to say, it was a giant failure.
But I learned how to set up the sewing machine and afterwards started on hemming pants. When you're 5'1" you have to hem all of your pants - even the "petite" sizes are too freaking long on me. But this was a mostly forgotten skill until several years later when I first started out my first personal style blog.
Wow, this is all kinds of reminiscing and embarrassing. But yes, before this blog I had started and closed several personal style ones that I was kind of dedicated to but at the same time not. I still have some old photos, but I'd rather not embarrass myself too much. Anyway, as I started getting a bit more into what I wear past some tees and some really badly hemmed jeans, I figured it wouldn't be too hard to start making my own clothes, right?
Wrong. Making clothes is super hard. If it wasn't, than more of us would have our own little nooks dedicated to our sewing machines and our fabric stash. I've made and remade so many items, I've worn a lot of ugly and badly sewn skirts and tops, and I've only really put more effort into learning more about the process and specifics now that I realize how expensive good quality clothing are. After years of making ugly garments, I finally started to take it seriously. But along the way I've learned a few things that I want to share with you guys in case you wanted to take up sewing as well!
Take your time. You're not on some reality TV show where you have to sew up a 3 piece tailored suit in 12 hours. This is a hobby for most of us, we're not making any deadlines other than our own. This was really hard for me to figure out because I want to have what I designed in my head as quickly as possible! But if I rush my seams end up wobbly and not straight or the hem is crooked and what not. When you're starting out you kind of get really excited and think up all the things you want to do and now can and I promise things will look better if you take your time. The speed will come later on and you can be making those easy skirts and stuff in an hour!
Know your machine. I don't know everything about my machine, but if I have any questions I always refer to the manual - which I've saved on my ipad. But at the very least you should know how to adjust tension, use different types of stitches, and how to clean your machine.
Pay attention to your fabric choices. I used to pick up whatever fabric was the cheapest per yard when I first started out and that is an awful idea, don't do that. Especially if you actually plan on wearing these clothes in public. While I don't expect to know a fabric just by looking and touching it, you should know what type of fabric would look best when. That's another thing that's important when buying fabric - touch it. Get a feel for how it drapes. Does it stretch and in what directions? Is it knit or woven? And, don't forget your seam allowances!
It's important to have the right tools. Like different sizes of pins, different needles for different weights and types of fabric, scissors, presser feet, a seam ripper. These things are all very important. For years I used the dinky needle my machine for everything. And that's bad, don't do that. Always have the appropriate needles (and pins) for the right kinds of fabric!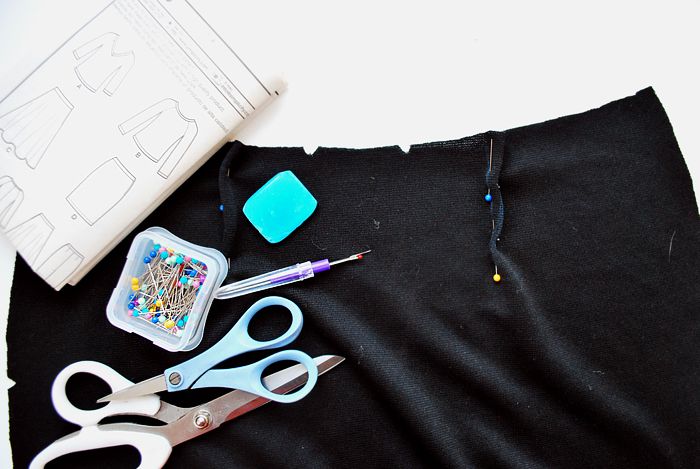 Simplicity 6230 Pattern - includes two styles of raglan tee and two styles of skirts!
Practice makes perfect. This is the hardest for me to accept because I don't like being bad at things, you know? I'm a perfectionist at heart and I like to be good or skilled at something and when that doesn't happen I sometimes give up learning altogether. Why should I try when I'm not good at it? I used to be awful at making cream puffs - they would end up deflated and soggy and just unpleasant. And for the longest time I didn't attempt to make them again. I don't know what caused me to attempt it but I had gotten better and they ended up how they were supposed to look! But it was getting over that initial disappointment - the initial tries where your projects end up awful - that got me into trying again.
And finally, don't compare yourself to others, another really difficult tip to fully embrace but I like to lay it on thick here in Bespectacled. One of my favorite quotes, attributed to Theodore Roosevelt, says "Comparison is the thief of joy" and boy did that hit me in the gut when I first came across it. The only thing comparing yourself to others does is make yourself feel bad. And honestly this applies to everything in life. Yeah so-and-so makes really nice garments and has started a business out if, so what? I know what understitching is now and I can sew invisible zippers! It's so easy to compare yourself and this is something that I'm working on everyday. But if you're going to take any of my advice from here take this one.
I am not at all an expert at these things, but I want you guys to learn from my mistakes! Nowadays, with my "improved" skills I kind of want to attempt another gothic lolita dress (for Comic Con maybe?) just to see if I can even manage to put something decent out there. Anyway, do you know how to sew? What are some tips that you'd like to share.