sunday summary #4 on a tuesday
Tuesday, May 13, 2014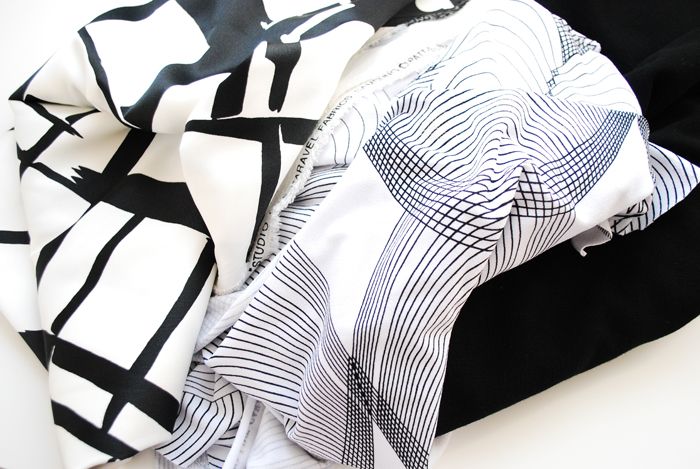 1. Meant to have this up Sunday but things have been busy lately, oops! But I had a lovely lazy weekend with my family. On holidays we usually end up just making lots of food, and mother's day was no exception!
2. I bought new fabric, as shown in the photo above. Feeling very monochromatic lately, but I love the idea of graphic shirts mixed with plain bottoms and that's exactly what I'm planning here. I have all the patterns printed out but starting to cut is the hardest I think, after I cut all the pattern pieces things are pretty straightforward. But it's always that first cut that I kind of procrastinate on. I'm planning on making two tees - one boxy, and the other just a regular slouchy tee, and a fitted mini, two if I cut really well.
3. Holy fingerprints batman! I hadn't realized how many fingerprints I had on my ipad until now. But isn't this strawberry tart from Paris Baguette the cutest thing? And it was pretty yummy too.
4. While I realize now all the posts I've seen about the YSL Baby Doll Kiss & Blush might have been PR-influenced, I still think it's a really good product. And speaking of YSL, guess who scored a thrifted vintage YSL 100% silk blouse for $3? It's been way too hot here in SD (it'll be an awful 100+ on Thursday!) to wear it, but it was one of those "is this real life?" kind of moments for me when I picked it up!
5. And yes I set up a new instagram account, for a few more blog related things. I feel a bit awkward posting up "ootd"s and what not to people I know in real life, you know?
6. In more blog related news, I'm hoping to bring back some more personal style posts and to maybe add some life-related ones here. These posts aren't usually my most popular, but I really want to start doing more of those type of posts and make my blog a bit more personal, you know? I hope you guys won't mind if I start adding them. I'm not going to become a fashion or lifestyle blogger overnight, I think beauty will still be my focus, but I want to add some more variety here!
Anyway, how was your weekend? Did you do or buy anything exciting? Did you have a nice mother's day?