may 2014 wishlist
Saturday, May 17, 2014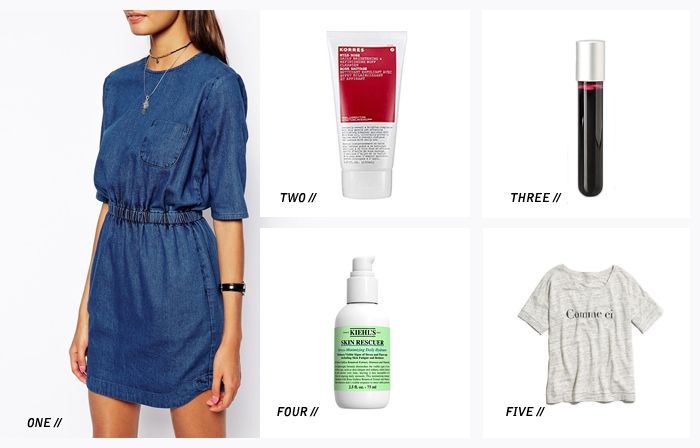 one. At the moment I'm having a big of a crisis with my wardrobe - I hate almost everything in it. Figuring out what to wear everyday has become such a chore for me and I have a tendency to wear the same pieces and combinations over and over again that I'm wonder if people are noticing (probably not). So I've kind of been more attracted to easy to wear dresses at the moment and am seriously considering dropping this ASOS Waisted Denim T-Shirt Dress, $57.16, into my shopping basket today. But I'll let the idea of it stew in my head overnight!
two. I like Korres. I adored the Korres Milk Proteins Foaming Cream Cleanser and think I'd have some good luck with the Korres Wild Rose Daily Brightening & Refining Buff Cleanser. I definitely need some brightening to my life.
three. I'm intrigued by the Cailyn Red Tint, $13, product mostly because it looks like a vial of blood and who doesn't want to carry that around in their bags. This is supposed add a natural red tint to your lips and you know how much I love red lipstick.
four. I'm not so sure what the Kiehl's Skin Rescuer, 2.5 fl oz for $40, is supposed to do other than moisturize actually, but it sure sounds like it would be good for my skin. I don't know if it's stress or lack of sleep or the weather, but my skin hasn't been at it's best - it's flakier than usual and like I mentioned is pretty dull looking. And there's only so much makeup can do without making it look worse than usual.
five. And lastly, I've also been interested in picking up some more graphic tees - things to just throw on with a basic black skirt or jeans. This Madewell Comme Ci Comme Ça Banded Tee is perfect because who doesn't like random French on a t-shirt?
So what's on your wishlist for May/June?