May 2014 Favorites
Saturday, May 31, 2014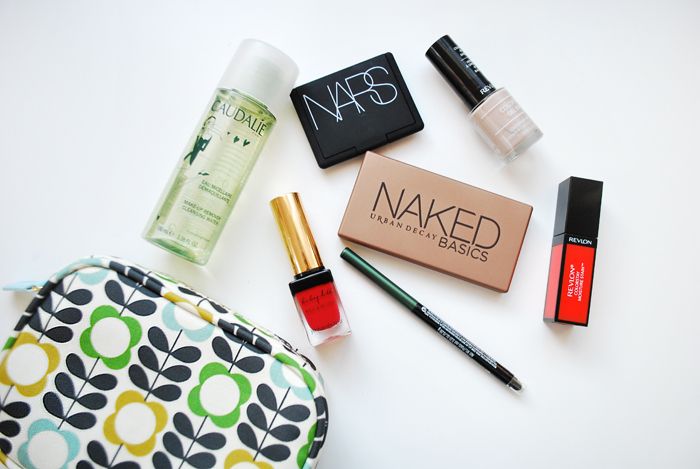 I'm a bit disappointed while writing this post (for the second time!) because I had written out what I thought was a good post and suddenly things stopped working and then I refresh my page to find what I had spent the last 30 minutes writing GONE. UUUGGGGHHHH. Don't you just hate technical difficulties? Remember everyone: save OFTEN.
Anyway, I'm excited to share these products with you guys because I feel like I've been stepping out of my comfort zone and trying different products, colors, and brands out and I've really liked some things I hadn't expected to like. Looking at the photo though, I don't want to come off as pretentious with all of my higher-end favorites (I did purchase everything with my own money). I want to be able to come off as more approachable to my readers and sometimes when other bloggers start talking about products and brands and what not that aren't as accessible you stop relating to them a bit, you know? But anyway, we can talk about that at a different time! Onward to this month's favorites!
I feel like none of these products should come as a surprise to you guys if you've read any of my posts lately. I tend to talk a lot about products that I like even before the month's over so you could probably figure out what I end up posting here even before I write down my lists. For example, I've talked a lot about these new releases from the Revlon Colorstay line in my last new in post so I'll try to keep things short. I adore the color of the Gel Envy Nail Polish that I picked, 504 Checkmate. It's a perfect everyday/any occasion type of polish and the quality of the polish is excellent. The formula is thicker than other polishes I own so it was a bit difficult applying without streaking, but I think you can definitely get away with only one coat if you're more experienced with thicker polishes. Come fall (whenever that'll be here in San Diego) I imagine I'll get tons of use out of this new shade, 206 Jade in the Colorstay Eyeliner line. I do love me some smudgy eyeliner. And lastly, their name Moisture Stain - lightweight, glossy, staining and in a perfect summer-ready shade? This was all kinds of yes for me.
I've talked a lot about the Urban Decay Naked Basics too. Matte eyeshadows, who knew I'd actually love these as much as I do? Sometimes I like subtle eye makeup and I think while this palette could definitely built up for something bolder, I think it's excellent for more subtle, everyday looks as well. Because we can't always pull off smudgy green eyeliner everyday.
Blush has been a big thing for me this month with the YSL Baby Doll Kiss & Blush in #5 Rouge Effrontee & my more recent purchase of the NARS Blush in Gilda. I like both products for different reasons. But at the same time I still haven't quite gotten over the whole "I own something from YSL/NARS" feeling (granted, I did buy the NARS Radiant Creamy Concealer but still). You look at these products and just feel luxurious and they're actually both great products as well. The YSL Kiss & Blush is one of my favorite kinds of products - multi-purpose ones! This works excellently as both a blush and as a lip product and smells kind of like mango candy to me, which I don't mind at all. And this NARS blush is gorgeous (not that you can tell because the lid is on it, so you have to take my word for it). And proves to me that it wasn't that my skin can't handle powder blushes, it's just that other powder blushes sucked. So there! But I've really been on a matte kind of fix here lately, huh?
For removing makeup, I've really enjoyed the Caudalie Makeup Remover Cleansing Water because 1) it's non-drying and 2) it's non-irritating. I have a lot of trouble with makeup removers that don't try out my skin or irritate the hell out of it. Especially lately with this weird state my skin has been in. I recommend it for people like me who wear lightweight makeup as I don't think this would be great for long-wearing waterproof makeup. But I could be wrong. It does have trouble with waterproof eyeliner and mascara though. But the smell is light and refreshing and I also use this as a toner/cleanser in the mornings before I'm rushing to work.
And lastly, I decided to switch out my old makeup bag for this one by Orla Kiely (duh, doesn't the print just scream "Orla Kiely"?) which I purchased at Target. It's quite spacious if you're like me and am indecisive about what makeup to wear everyday. It's super adorable and was only about $10! I highly recommend it especially if you're a big Orla Kiely fan.
Enough of all of this gushing from my end, what have been on your favorites list for May?