inside my makeup bag
Monday, May 05, 2014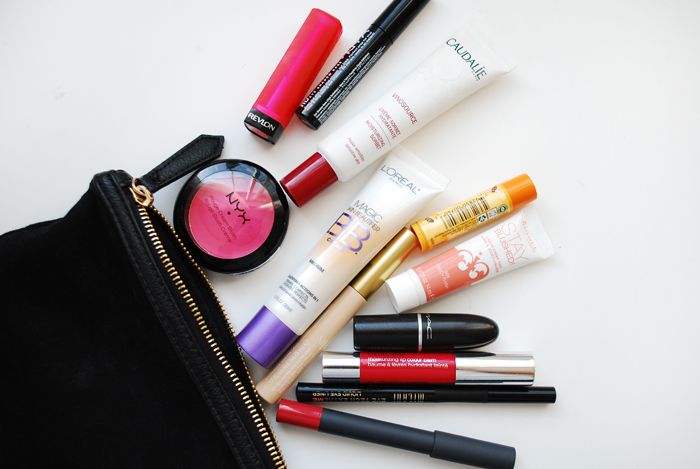 Makeup bag: Forever 21 (sale)
I try and save myself a bit of time in the mornings by doing my makeup routine on the go. While I don't feel the most comfortable doing my makeup in public, I'd rather save some time for something more important like sleeping in 10 minutes more or eating a more substantial breakfast. So, I've been keeping a small makeup bag with me, and I thought I'd share some of the products that I use regularly!
Quite a few of these things were featured in my April Favorites so I'll direct you to that post if you want to read more about the NYX HD Shadow Base, Origins Plantscritption Concealer, Bite Beauty High Pigment Lip Pencil, MAC See Sheer Lipstick, & the Rimmel Stay Blushed Cheek Tint .
I bring a moisturizer with me to keep dry spots at bay, and for the purpose I've been using the Caudalie Vinosource Moisturizing Sorbet. I moisturize after I wake up as well but if you have dry skin moisturizing twice can be really helpful. I really like the smell of this, surprisingly! My base of choice lately has been the L'Oreal Magic Skin Beautfier BB Cream and I'm the shade medium. The texture is kind of like an exfoliator because of the bead tints, but it doesn't oxidize to a weird color for me. The coverage is pretty sheer but is enough to cover any redness that I have on my cheeks and cover some pores on my nose. I like this because it doesn't have any SPF in it, which is perfect if you work in an office all day like me.
I always use concealer, but this tends to change between the NARS one & the Origins Plantscription depending on dry my skin has been. Lately, I've been reaching for the Origins one more often. Another thing I've been using more regularly is cream blushes - for something a bit more subtle I use the Rimmel Stay Blushed Liquid Cheek Tint, but if I want a bit more of a tint I also have the NYX Rouge Cream Blush in CB08 Hot Pink. This is a new purchase so I have no idea about specifics like longevity, but I do like the texture & color. I don't always wear eyeliner only because I'm lazy, but I do carry around the Milani Eye Tech Extreme Liquid Eyeliner in in case I'm feeling a bit more motivated that day. But this smudges a LOT on me, am I the only one?
Lip products take a good chunk of my bag because I can be quite fickle with what lip color I'm wearing that day. Some days I change half way through the day, so I like having options. Most of my lipsticks are more moisturizing, but I do like having the Burt's Bees Nourishing Lip Balm with Mango Butter just for a bit extra help. For work the boldest I go in color is the Revlon Lip Butter in 063 Wild Watermelon. But most days I end up reaching for the Clinique Chubby Stick in 05 Chunky Cherry. I think that Clinique chubby stick is comfortable to wear and I do enjoy a sheer red!
So, I think that's everything! I do carry a mirror around with me as well. Anyway, what are some of the things that you keep in your makeup bag? Do you guys carry one around regularly?