in rotation #1
Thursday, May 29, 2014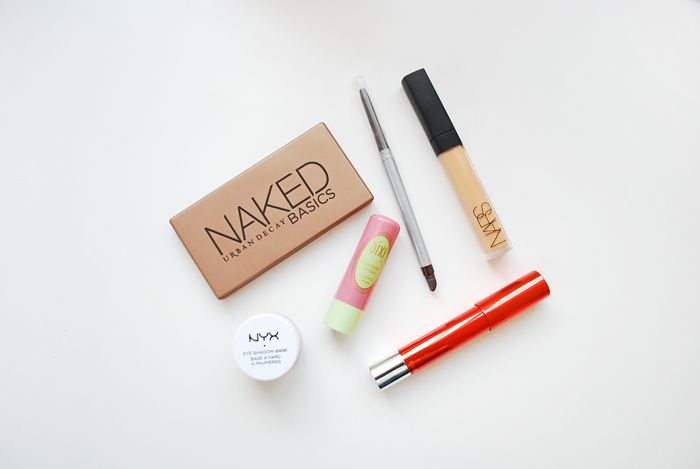 These kinds of posts aren't exactly unique, but my makeup routines are in constant flux and I wanted to share some of the products that I'm using at the moment. I've been forgoing any kind of base product lately because my skin just hasn't been agreeing with any of my usuals. I don't really know how else to describe my skin at the moment except with a resounding "ugh". I just, don't know what's going on with it. I have dry spots, yes, but none of my base makeups have been holding on very well and so I just have decided to hold off on that front until my skin is cooperating with me. I've been alternating with my growing stash of concealer but have recently gotten back on the NARS Radiant Creamy Concealer train (mine is in the shade medium2, Ginger)! Out of all of my concealers this is the best at brightening and concealing and I just keep coming back to it. The skin underneath my eyes have gotten better since I've been applying eye cream more diligently and wearing primer, but it's still not perfect.
I don't normally wear eyeshadows but the Urban Decay Naked Basics Palette has been so lovely to wear. The looks I pull off with this are much more subtle since the skin on my eyelids are so pigmented, but I like it. Subtle is exactly what I like some days. I've been wearing the NYX Eye Shadow Base in skin tone as a primer for the shadows, and it isn't very much different than the NYX HD Eye Shadow Base that I had been using before, except that it does have a tint so it corrects the pigmentation on my lids. For eyeliner I've gone back to my favorite Neutrogena Nourishing Eyeliner in Spiced Chocolate. I think brown eyeliners are much more flattering on me than black. And this eyeliner paired with the Naked Basics eyeshadows is lovely.
I swear I have like 4 other lipsticks hidden in my bag at any given time so I do switch lip products quite a lot, but the two I've been reaching for at the moment have been the pixi Shea Butter Lip Balm in Natural Rose and the Revlon Colorburst Lacquer Balm in 130 Tease. The pixi lip balm is a new release and has a subtle tint to it, which I like on those days where I'm wearing a stronger blush or have more eyeshadow on. I was going through my stash for one of those "my lips but better" kind of shades and I didn't have any. I'm not really drawn to those colors, you know? But now I've found one and I quite like it. If I'm opting for more color the Lacquer Balm has been lovely and I've been liking more orange-tones lately so this was a nice pick.
I always have so much to say about everything! I thought that this would be a shorter post, but anyway, what makeup have you been using lately?