April 2014 Favorites
Wednesday, April 30, 2014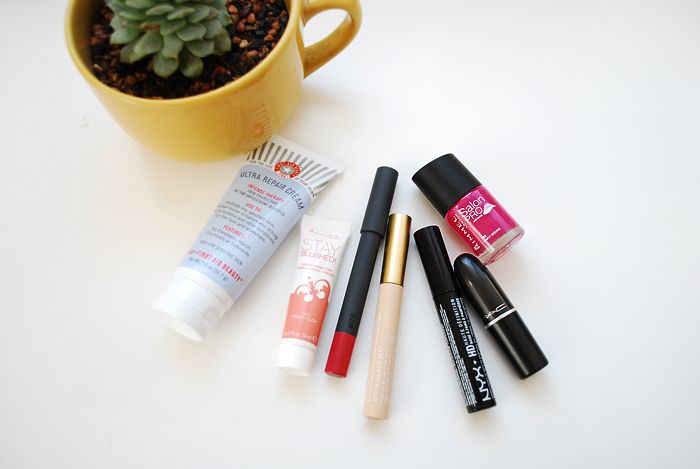 Is it time already for those "where has the month gone?" typed questions asked all over the blogosphere? I know where my time has gone - work! I've been working now for more than a month and it's nice being busy, although the weekends never feel long enough. Anyway, we're here to talk about April Favorites.
Because I'm working now the products that I pick and choose have become more practical, I think. While I adore the FAB Ultra Repair Facial Cream, the First Aid Beauty Ultra Repair Cream is lovely. I prefer the 2oz version not only because of the price point, $12, but also the packaging. I just hate jars! This product is a lovely emollient moisturizer and has been really great at keeping my dry spots at bay. Highly recommended if you're on the lookout for a moisturizer that's a bit more heavier than the FAB Ultra Repair Facial Cream.
Lips & cheek picks have been a bit more practical as well. The Rimmel Stay Blushed Liquid Cheek Tint is no stranger to my blog - I adore the formula and it only costs $3 a pop! But 003 Peach Flush has a bit tamer than 001 Pop of Pink, which I've been liking. And it pairs well with any lip product that I decide to wear. I think MAC See Sheer Lipstick pairs quite nicely with this. It's a very comfortable wearing lipstick and gives a nice peachy pink color to the lips. My other lip pick is the Bite Beauty High Pigment Lip Pencil in Chablis.
I've talked about the NYX HD Shadow Base as a primer for my undereye concealer before in my last face of the day post. I really do think it's been helping with creasing and longevity! And my concealer of choice lately has been the Origins Plantscription Concealer. I don't really find this as brightening or as long lasting as the NARS Radiant Creamy Concealer, but this doesn't crease as much as the NARS one does (even with the NYX shadow base), and therefore is a bit better for me. I wish I could create a hybrid of the two - something brightening, long-wearing, and emollient! I'm considering the Benefit Fake Up Concealer as my next pick.
The Rimmel Salon Pro Nail Polish is another product whose line I've featured on the blog before, but this shade, Simply Sizzling, is new for me. It's a Barbie pink color and I've actually liked it a lot! I really like the color pop, especially since my clothes are pretty dark and neutral most of the time. While the color isn't exactly the most practical (at least for an office), the formulation is: it's easy to work with, super shiny and long-lasting! I don't have the time to do my nail polish everyday and need something that would last through all the typing that I do, and so far this polish line has done nothing but impress me. Another $3 goody from Rimmel!
So those are my favorites for this month! Tell me, how was your month? And what were some of your favorites?